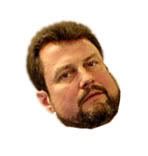 Interests: Pinot Noir, leggy Baltic blondes, helping kick off pointless regional bloodbaths in exchange for large sacks of cash.
Favorite quote:
"Power is the ultimate aphrodisiac"
Added: This is a great backgrounder on the morass of Caucasian conflicts that Scheunemann and his ilk have worked to drag into US politics.
These yahoos operate a lot like the brass on The Wire. They know nothing and could care less about the facts on the ground, and work tirelessly to spin human tragedy into their stupid little power plays and money schemes. It's really disgusting to watch, yet darkly compelling.
Upcoming events:
Mar 24 2017 - 9:00am

(12 hours 36 min from now)

Mar 28 2017 - 6:30pm

(4 days 22 hours from now)

Mar 29 2017 - 12:00pm

(5 days 15 hours from now)

Apr 27 2017 - 6:00pm

(4 weeks 6 days from now)
Lost Medicaid Funding
To date, the failure to expand Medicaid/TennCare has cost the State of Tennessee
?
in lost federal funding. (
Source
)
TN Progressive
Nearby:
Beyond:
At large: